Home
Main content starts here, tab to start navigating
VOTE "Best of Gwinnett"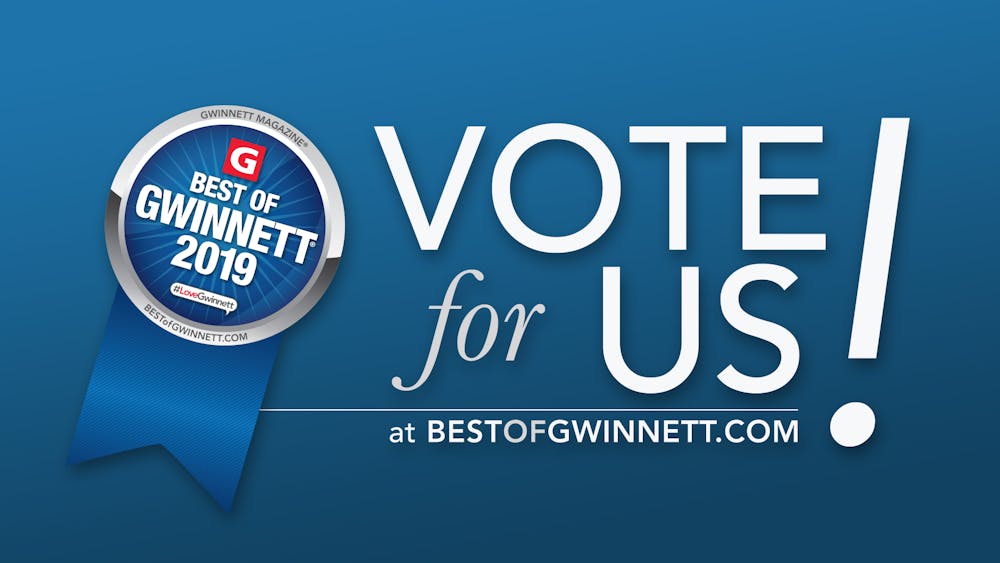 View Our Menu
Slide 1 of 16
Slide 2 of 16
Slide 3 of 16
Slide 4 of 16
Slide 5 of 16
Slide 6 of 16
Slide 7 of 16
Slide 8 of 16
Slide 9 of 16
Slide 10 of 16
Slide 11 of 16
Slide 12 of 16
Slide 13 of 16
Slide 14 of 16
Slide 15 of 16
Slide 16 of 16
Charlotte, NC Now Open The Juicy Crab!
NC NOW OPEN! Congrats to Charlotte, NC for being our first location in North Carolina to open today! NOV 7, 2019. Be one of the first guest to enjoy our Cajun Seafood Boil!
The Juicy Crab 5700 University Pointe Blvd, Charlotte, NC 28262
Orlando Mayor Ribbon Cutting Tue. NOV. 12 from 2pm-6pm
Join us in Orlando, FL for the 'official' Ribbon Cutting with the Orlando Mayor TUE. NOV 12th! Ribbon Cutting, with a live DJ, "Spin the Wheel" prize give away, food and drink specials. The Juicy Crab opens at Noon and the Ribbon Cutting will take place sometime between 2pm-6pm.
Hope to see you at The Juicy Crab:
7308 International Drive (I-drive), Orlando, FL.
Chattanooga, TN The Juicy Crab NOW OPEN!
Stop in and be one of the first to dine at our new Chattanooga, TN location! The Juicy Crab is NOW OPEN!
The Juicy Crab, 2020 Gunbarrel Rd, Chattanooga, TN 37421.
Killer Mike & The Juicy Crab team up for Charity!
Famous Rapper/Actor/Activist KILLER MIKE teamed up with The Juicy Crab for one of his favorite charities: Next Level Boys Academy. (Atlanta).
The Juicy Crab believes in giving back to the community! Killer Mike with one of his chosen ATL charities: Next Level Boys Academy. The Juicy Crab is very proud to make a donation on KM Behalf! THANK YOU TO 11 Alive News for covering the story! October 24, 2019 The Juicy Crab in Tucker, GA. Big Check Presentation,.
NEWS REPORT 11 ALIVE LINK CLICK HERE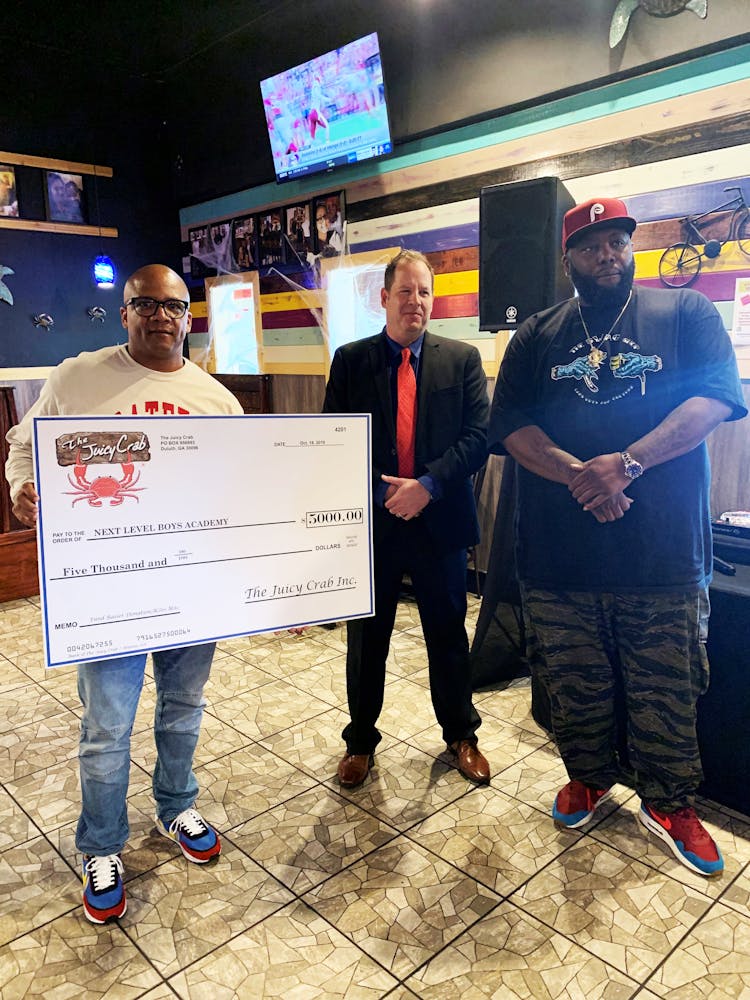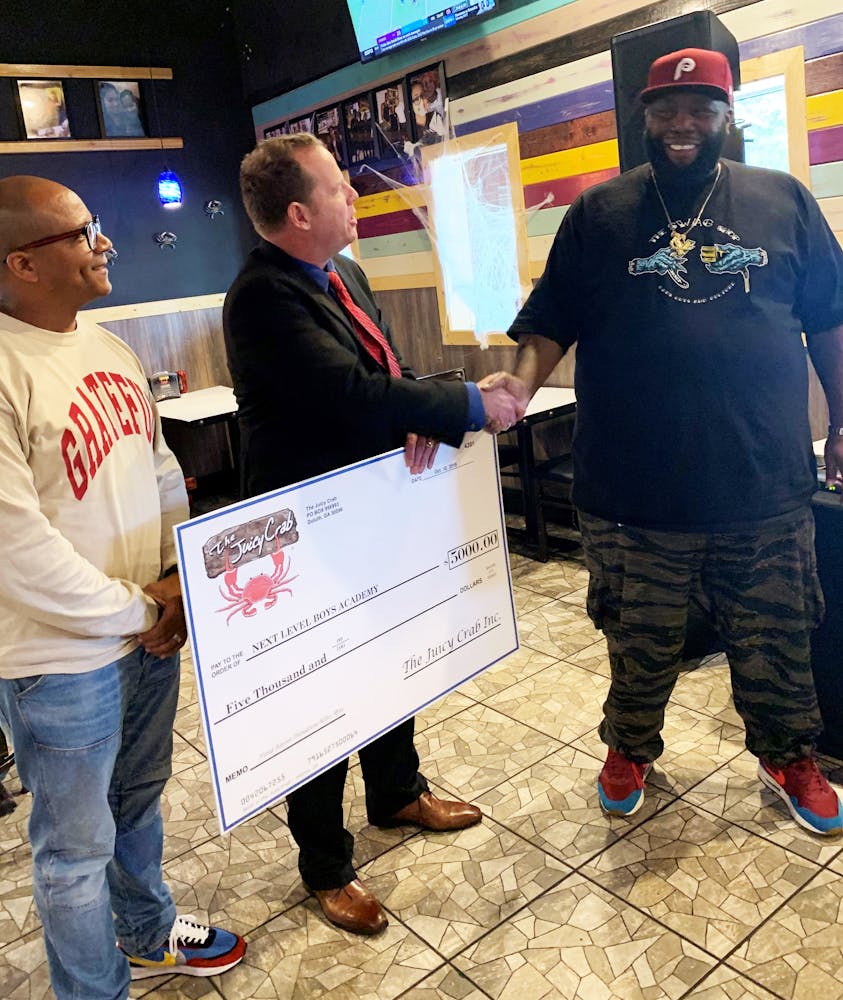 Tucker - LIVE DJ P ROCK - Sundays! 4-8
Stop in SUNDAYS at Tucker-The Juicy Crab! LIVE DJ P Rock from 4pm-8pm.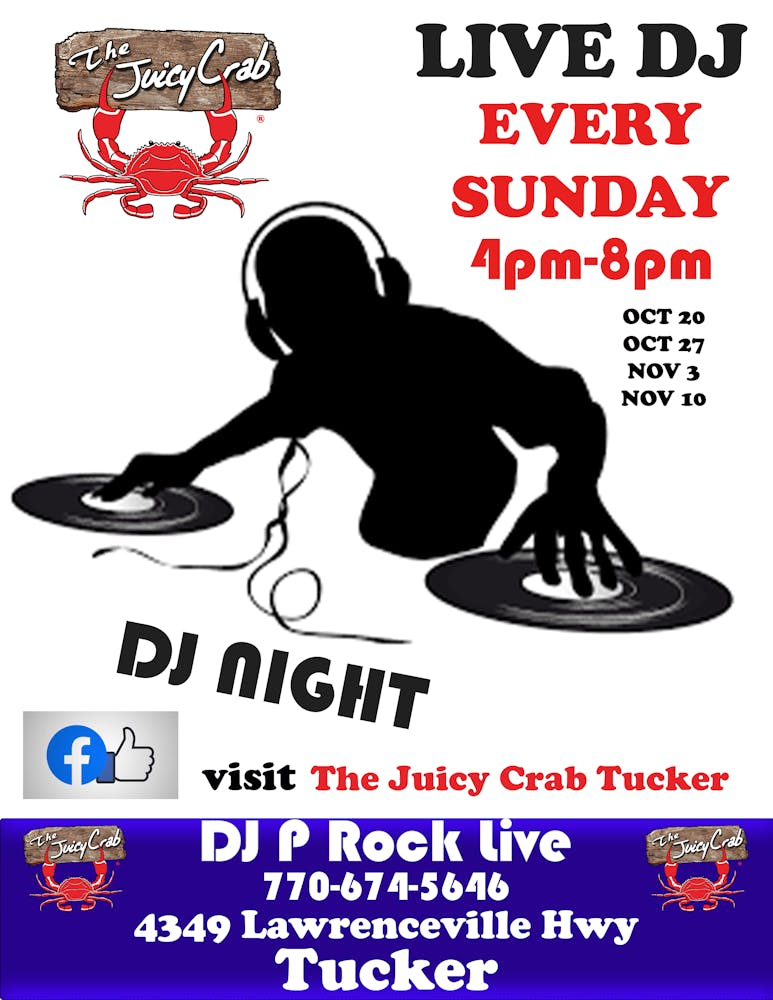 TUCKER - SPIN AND WIN CONTEST Every Tuesday 3pm-8pm
SPIN AND WIN CONTEST -
Every Tuesday in Tucker The Juicy Crab.
OCT 15-NOV 5. from 3pm-8pm.
Tuscaloosa, AL. JOB FAIR Nov. 4-5
Tuscaloosa OPEN HOUSE! TWO DAYS ONLY! The Juicy Crab is hiring ALL Positions, FOH and BOH for our full service high volume restaurant.
Stop in either NOV 4th and NOV 5th anytime 10am to 8pm. Bring a resume if you have one and fill out an application.
1800 McFarland Blvd E. #218, Tuscaloosa, AL 35404
Charlotte, NC: Open House All Week: OCT 21 thru Oct 25th Hiring ALL BOH Cooks and more.
Charlotte, NC; OPEN HOUSE HIRING DATES ALL WEEK!
COOKS * We need you and we are hiring. (BOH). Line cooks, prep cooks, sauce cooks, boil cooks, lead cooks, mgt. and more!
All Week: MON OCT 21 through FRI OCT 25th (Mon-Fri) Stop in **anytime** from 11am-5pm.
Stop in The Juicy Crab in 5700 University Pointe Blvd., Charlotte, NC 28262
We are a high volume full service seafood restaurant.
*ORLANDO - The Juicy Crab is NOW OPEN!
ORLANDO, FL - The Juicy Crab is **NOW OPEN** Stop in and try that "Juicy Special" (tm) sauce!
7308 International Drive, Orlando, FL 32819 (I-DRIVE)
Jonesboro, GA * NOW OPEN
* CONGRATS JONESBORO, GA*
The Juicy Crab is ***NOW OPEN***!
6608 Tara Blvd., Jonesboro, GA 30236
MEMPHIS, TN, The Juicy Crab is Now Open!
Stop in today and try our Famous "Juicy Special" (tm) Sauce and visit the first Tennessee Location here in Memphis @ 7684 Winchester Rd, Memphis, TN. See our Famous Photo Wall too!
Guests Confused over trademark "Juicy Crab House" in Florida - is NOT our Brand.
Yet, another company trying to ride on the coattails of The Juicy Crab (tm) Brand. They are called "Juicy Crab House" located in Mary Ester, Florida.
The Juicy Crab welcomes any competition in the full service seafood restaurant business, but we don't quite understand the lack of their own innovation, vision, or or business ideas when it comes to creating a business.
People are always trying to copy cat our brand or use a portion of our name in their name, when in reality, there is a good chance they do not have their trademark approved by the U.S. Trademark office.
The Juicy Crab takes their branding very seriously and will address any issue of anyone trying to cause confusion in the market place.
_____________________________________________________________
JOB BOARD - NEED A JOB? We are hiring!
ALL Restaurant LOCATIONS ARE HIRING! Stop in and ask for a manager and fill out an application! We are always looking for great staff who can give a great guest experience.
You can also click on our CAREER LINK PAGE.
CONGRATULATIONS TO DULUTH-The Juicy Crab-WON BEST SEAFOOD voted by Gwinnett' 2018!!!!
---
FAYETTEVILLE - NOW OPEN!
Fayetteville NEW - The Juicy Crab is NOW OPEN - 172 A Banks Crossing, Fayetteville, GA 30214 -
***FULL BAR NOW OPEN in Fayetteville The Juicy Crab***
---
*** GIFT CARDS NOW AVAILABLE All Metro ATL Locations
GIFT CARDS are NOW available for purchase directly from our METRO ATL Locations NOW!!
---
Big Congratulations to DULUTH, GA and DOUGLASVILLE Location Perfect 100% Health Score!
We want to wish Douglasville and Duluth The Juicy Crab a big congratulations for a PERFECT HEALTH SCORE of 100%! As of December 2018!
---
Knock Off, Unauthorized "Juicy Crab" located in Fairview Heights, IL does not have permission to use The 'Juicy Crab' name
(See Video Link Below on News Story):
As reported by local news bnd.com in Fairview Heights, IL, a 'new' 'Juicy Crab' is opening at the old Joe's Crab Shack located at 51 Ludwig Drive as early as November. As the article states, that restaurant owner Jack Chan was changing the name from 'Crazy Crab' to "Juicy Crab" when it opens and that the sign maker made a mistake when he ordered the sign.
For the record, when it comes to someone trying to confuse the marketplace with any name or likeminded name or logo from the Registered Trademark for "The Juicy Crab", we will take any and all legal action necessary to protect our brand. This is not the first time this has happened, nor will it probably be the last.
We have had so many people contact us that were so excited about the brand coming to Fairview Heights, but at this time, we want people to know, this is not our company. Jack Chan will be infringing on our Trademark rights if he puts a sign up or opens under any likeminded name. Since The Juicy Crab does offer franchises in most non registration states, Perhaps a real "The Juicy Crab" will be opened by a potential franchisee in the near future. Fingers Crossed.
VIDEO LINK ABOUT STORY: https://www.bnd.com/living/food-drink/article220164310.html
Press Release: Indianapolis, IN Confusing FAKE "JUICY CRAB" Opened (JC Crab is not us)
PRESS RELEASE: The Juicy Crab® seafood restaurant Companies (Based out of Duluth, Georgia) are under attack by several 'knock off' companies. Some of these 'knock off' & fake' or 'misleading' restaurants are taking advantage of The Juicy Crab® brand. Whether it's infringing on our TRADEMARK RIGHTS, or Copying our Tag Line, "Juicy Never Tasted So Good" (tm); it's always surprising to us when someone opens a restaurant under our name or partial brand name, or puts our trademark tagline right on their menu. It's a testament to our fast growing seafood brand and a compliment, in a way. On the flip side, it can hurt the brand too, with lackluster product, customer service and quality. Recently, the latest confusing "Juicy Crab" (JC Crab) (website: thejuicycrabindy.com Listed as per Yelp) (Groupon is listing "The Juicy Crab in Southport Center, Indianapolis) opened in Indianapolis, IN ('Juicy Crab LLC recent name change to Yummy Crab LLC 7327 US 31 SOUTH, Indianapolis, IN and customers be aware, It is NOT US. The last thing we want is for someone to show our brand or try to confuse customers with a subpar product, seasoning and quality.
WINNER 2017 'BEST OF GWINNETT' 'Best Seafood' Category
This Just in! As of Jan. 31st, 2018 the VOTE IS IN! Gwinnett Magazine voted BEST SEAFOOD in Gwinnett 2017! Thank you to our fans for all the votes and making The Juicy Crab #1!!!